Paul Roberts
Chief Strategy Officer, President, Interim Chief Executive Officer, and Chairman
Paul Roberts has served as Chief Strategy Officer, President and Chairman since May 2019, prior to which he acted as our Chief Executive Officer and Chairman since May 2017, overseeing the development and commercialization of our Company. Prior to holding that position, Mr. Roberts was the Chief Executive Officer of CenterPoint Media LLC from August 2012 to February 2018, an online marketing company that helped brands engage with their customers over live-style blogs. Mr. Roberts has over 15 years of experience in digital media, holding positions at Locial Media, TanzAct Media, Yahoo!, Hotjobs and Attain Media. Mr. Roberts is experienced in building and growing companies in the technology industry, with particular expertise in sales, marketing strategy, brand development and customer engagement. Mr. Roberts attended Long Island University.
Joshua Weiss
Chief Financial Officer
Joshua Weiss has served as our Chief Financial Officer since December 2019. From October 2016 to June 2019, Mr. Weiss was employed as a Vice President, Finance at Cambridge Information Group, a family office specializing in education and education technology. From October 2011 to October 2016, Mr. Weiss held various positions at an international accounting firm, including Senior Audit Manager, specializing in the firm's SEC and Transaction Advisory groups. From August 2005 to October 2011, Mr. Weiss held various positions at a different international accounting firm, including Audit Manager, specializing in Real Estate and Hospitality. Mr. Weiss holds a Bachelor of Science degree in Accounting from Yeshiva University and is a licensed Certified Public Accountant in the State of New York.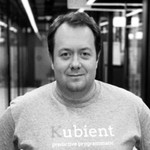 Pavel Medvedev
Chief Technology Officer
Pavel Medvedev has served as our Chief Technology Officer since April 2018 and has lived and worked at the intersection of media, advertising and technology for over two decades. From December 2017 to April 2018, he was employed as a Senior Vice President-Programmatic at DoubleVerify, a digital marketing agency. From January 2017 to September 2017, he was a Programmatic Consultant at LiveIntent, Inc., a digital marketing and advertising agency. From March 2013 to August 2017, he was a Director of Client Solutions for IPONWEB, a British digital advertising software firm. Prior to his career digital advertising, he held positions in e-commerce and software development, including five years as the Chief Technology Officer for Diligent Board Member Services, Inc., a board of director software management developer, where he managed technology teams for Fortune 500 companies. Mr. Medvedev holds a Master of Science from Moscow Institute of Electronics and Mathematics.
Leon Zemel
Chief Product Officer
Zemel joins Kubient with an impressive 15+ year career as a product innovator and business leader in the ad:tech industry. Leon led the development of one of the first demand side platforms ("DSPs") and Data Management Platforms ("DMPs") in the industry at x+1, where he was a key senior executive responsible for scaling its technical products before it got acquired for $230MM. He has also driven product innovation for large scale ad:tech companies such as MediaMath in addition to leading all programmatic product at DoubleVerify.
Ryan Adams
Senior Vice President of Partnerships
Adams brings a wealth of knowledge to the role from his over 20 years as a sales and marketing professional at companies including Centro, a digital marketing solution, where he was the head of Client Direct and Publisher Solutions in the East region.
Alexis Bryers
Vice President of KAI Partnerships
Kimberly Kahn
Vice President of People Operations
Kim joins Kubient with almost two decades of human resources ("HR") experience across a number of companies. Notably, as the first U.S. HR professional at DoubleVerify, an advertising technology company, Kim was responsible for running the comprehensive human resources department. More specifically, she recruited for all positions and levels which totaled in over 300 employees during her tenure, created and constantly updated the employee handbook, acted as the point person for all employee relations needs, managed all HR services and renewals with vendors, set a compelling company culture to help attract and retain talent, as well as handled compensation logistics for employees. Additionally, Kim has served in senior level positions at TuneCore Inc. and Culture Trip., where she was VP, Human Resources and Director, Human Resources, respectively.
Larry Mlawksi
Director of Client Success